Hello everyone.  I hope you are enjoying your Sunday evening.  Many of you are probably watching the Oscars tonight.  For some reason, I am not that interested this year.  I only saw a few movies in the last twelve months, and to be frank, sometimes the self-congratulatory nature of the show drives me a little crazy.  My personal all time favorite Oscar memory though has to be when Roberto Benigni won for best actor in "Life is Beautiful".  If you haven't seen that…check it out on YouTube here.  (And see the movie if you haven't already…it's rather a moving show.)
Anyway…I have been loading up some photos into the database recently and thought I would share a couple variations that have not been documented previously. I know some of you are hard core variant collectors…so this post is for you!
First up is this variant of NT0318.  There are four variations of this card on
DisneylandPostcards.net, but this one is not shown there.  There are no clothing color variations on this card so it is like the base card NT0318, but the text on the  back is justified…like on NT0318a.  So…it's sort of a mix of the two cards.  This card must have been rather popular as all these variations seem to point to several re-printings.
The second card I have tonight is a variant on NT0329.  The card (which I label as NT0329a in the database) has some of the common textual variations on the back that vary from NT0329.  The vertical Disneyland text is spaced out differently, and "THE MAGIC KINGDOM" text is in a different font than the NT0329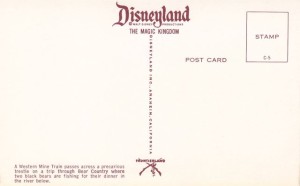 card shown on DisneylandPoscards.net (here).
I have no idea if either of these cards is more rare than their "siblings".  I suspect that most collectors don't really care that much one way or the other.  But, if you are trying to collect all the variations, then this question is important.  Perhaps one of you out there can comment on this below!
Until next time…