As promised, I have come back tonight for a post on the Tokyo Disneyland cards that I recently picked up.  I have been slowly looking through these beautiful cards, one by one.  They are a real treat and make me want to hop on a plane and go to Japan!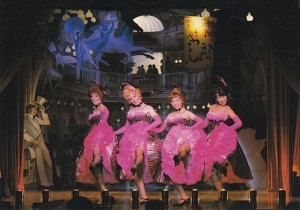 Tokyo Disneyland opened in April, 1983, and the cards I recently picked up are all from that first year.  While I cannot personally say whether these cards were on the rack the day the park opened…I suspect they were not since many of the them show guests milling about the various attractions in the park.  For this post, I thought I would look at one particular card…The Diamond Horseshoe Revue!
The Diamond Horseshoe Revue is in Westernland – the Tokyo Disneyland equivalent of Frontierland at Disneyland.  Here you will find several attractions that you might expect – Big Thunder Mountain, the Mark Twain riverboat, a shooting gallery, even the Country Bear Theatre!  At Slue Foot Sue's Diamond Horseshoe…you will find the Diamond Horseshoe Revue – a lively can-can show in the spirit of the show at Disneyland.
Taking a look at the card, I cannot help but be reminded of NT0070, pictured here.  It's the same thing, only 28 years earlier in Anaheim!  I doubt there were any Japanese girls dancing the can-can at Disneyland in 1955 though.  But the Tokyo card is a testament to the coming together of two cultures that were at war only 38 years before the opening of the Tokyo park.  For that reason…this card puts a smile on my face!
Until next time…