I have finished uploading the next installment Disneyland Paris postcards into the checklist, and wanted to share with you the result.  This set of cards runs from 00108-00096 through 00108-00122.  I have numbered the group with "NT" numbers from DP-0108 through DP-0134.  There are a couple small gaps in the run, and a couple other interesting things to point out.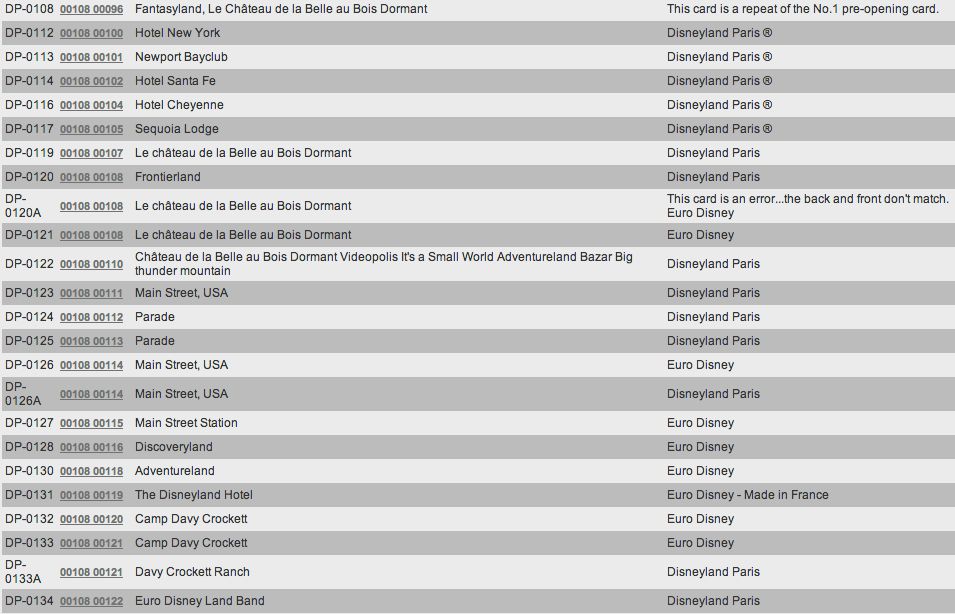 This series of cards contains both single and multi-views of the park as well as a number of cards showing the hotels at the park.  The Hotel New York, the Hotel Santa Fe, Newport Bay Club, Hotel Cheyenne and the Disneyland Hotel are all represented.  There is one "error" card that I have where the back and front don't match.  I have listed this as DP-120A.  It shows a picture of the castle with Mickey and friends on the front, but is listed as "Frontierland" on the back.
Another point of interest is card DP-126.  There are two versions of this card…one designated with "Euro Disney" and the other with "Disneyland Paris" (DP-126A, shown at left).  The park opened as Euro Disney, but the name was changed not long after to Disneyland Paris…so I suspect that the "Euro Disney" cards are earlier.  I have tried to indicate in the comments which cards say "Euro Disney" on the back, and which say "Disneyland Paris".
Finally, a few of the cards in my collection have small stickers on the back that say "Made in France" (DP-0131 for example).  I thought this was interesting…especially having spent a fair bit of time there.  The French are pretty protective of their culture.  When Disney showed up, there was some backlash.  Making sure that work supporting the park was being done in France was all part of the effort to bolster support for the project.
I have about 40 more Disneyland Paris cards to go to cover the cards I have in hand right now…and that will conclude the start to this list.  I am thinking I may have to go to Europe/Paris to find more of these cards.  Tough duty…but someone has to do it!
Until next time…