I have recently been working on putting together a "starter" checklist for Disneyland Paris cards.  I don't have anywhere near a complete set of these cards, but I have enough of the early cards that a structure can be developed.
As part of this effort, I have come across a few Disneyland Paris hotel cards.  There are several hotels at the Disneyland Paris property…seven to be exact!  The Disneyland Hotel is the primary property at the park with "5 star" accommodations.  The first card I have today is an early card from this hotel.  It's a great water color of the Castle in a kind of mysterious fog!
The other properties at the Paris park are not as high-end, but they offer accommodations which Disney rates all the way down to 2-stars at their own web-site.  In the US, we don't usually think of 2 stars being a very nice accommodation, but the way hotels are rated in Europe is a little different.  In my time there, I have come across many 2-star hotels that were plenty nice.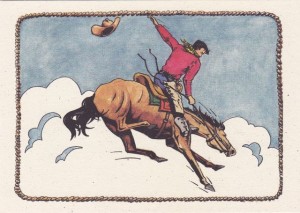 The other card I have today is from one of the 2-star options, the Hotel Cheyenne.  The hotel is western themed, built around a "frontier town" and offers a bunch of activities for the whole family.  This card is reminiscent of a Frederic Remington sculpture…the cowboy riding on a wild bronco!
Anyway…I hope you all are enjoying a relaxing week between Christmas and New Year's.  This is one of my favorite times of year when you can get away from the routine and do things that have been on "the list" for a while!
Until next time…