This past weekend I made a quick trip to the Orlando area while attending the Rolex 24 at Daytona endurance race.  I have been a car racing fan ever since I was a kid…getting a chance to go see this race was an opportunity I was not going to miss.  The main reason I went is that my brother was actually a driver of one of the cars.  So, it was a must to attend!
After the race was over on Sunday, I took a couple hours and went to Downtown Disney to have dinner, and checkout what was available in terms of postcards and other stuff.  The "World of Disney" store there is enormous!  But…after asking around, I did find the small rack of postcards available at the shop.  The most interesting card was this 2014 lenticular card.  It seems that these are the only cards that are really new each year.  The rest of the cards (at least the ones available outside the Park) don't seem to change that much…at least for Disneyland.  It may be a bit of a leap to say the same for WDW since I am rarely there, but some of the cards on the rack there are the same ones I saw seven years ago on my last visit.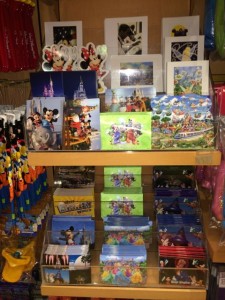 Speaking of the rack…here is a shot of what was on it.  Three different folders, and various other cards.  Those larger white bordered cards are part of a much larger series.  I think I have close to 25 to 30 different cards in that set….but I am not sure if I have the compete set.  You can see most of the cards at disneylandpostcards.net (but this is also not a complete set as I have some that are not shown there).
Anyway…sorry it took so long for a new post.  Things have been really busy lately.
Until next time…