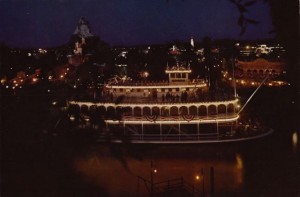 Hello everyone…I hope you are enjoying your Christmas eve!
I was just poking around eBay and noticed that eBay seller rystys
 has yet another batch of key cards closing in the next few hours. Of note here are the jumbo 6X9 Mark Twain at night and the panorama card of the Main Street Station. (That J7B Mark Twain card is rather rare…it's not even in the Nickel Tour!)
In addition to these, there is a jumbo of Columbia (NT0467B), a pre-opening card of Tomorrowland (NT0004) , an art corner card of Mickey painting Pluto (NT0581) and a copy of NT0509, the watercolor of the Main Street Flower market.  So…now's your chance if you need to pick up any of these cards!
Otherwise…I hope you all have a great Christmas day tomorrow!
Until next time…