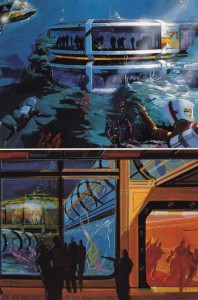 Tonight I have been struggling with a bit of a "writer's block".  Whenever I land in this predicament, the solution is actually pretty straight forward…reach into a random pile of cards, pull something out and start writing!!
The winner of the lottery tonight was this pre-opening EPCOT card for "UNDERSEA ADVENTURE – The Living Seas".  This is a pre-opening day card for EPCOT, and as such, it has some text in bold on the back indicating that "The Future Begins October 1, 1982".  The card sort of implies that the Living Seas are part of the EPCOT opening day event, but in reality, this attraction did not open until 1986.  After approximately twenty years in operation it was "rebranded" as "The Seas With Nemo and Friends".  Many of the original attributes of the attraction were removed to accommodate this change in branding.  For more…check out Lost EPCOT.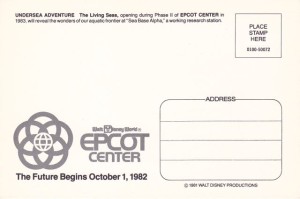 Regardless of the history…this is a great artists concept card that was ultimately for sale as a regular card.  There exists a version of this card which is identical to the one shown here, but without the extra text, "The Future Begins October 1, 1982", printed on the back.
Until next time…
P.S.  You may have seen a D-131 Art Corner card (NT0122) go for $256 on eBay today.  That is a pretty remarkable price for that card.  Just last year I picked up my copy for ~$80.  And in the interest of full disclosure…the sale that ended today was also mine.  It was a duplicate that I picked up a number of months back.