Hello…these auctions have ended so I am altering this post to reflect that.  I have attached some thumbnails of the cards instead of a link to the auctions.  I hope you all were able to get something here!
_____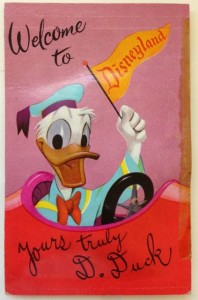 Howdy folks!  I hope you are enjoying a nice Saturday afternoon or evening!
I wanted to quickly take a moment to point out some auctions that are closing soon on eBay that you may not want to miss.  All of the postcards are from a single seller and are reasonably uncommon…even rare, and one or two of them are presently "screaming" deals.  Whether they continue to be that way, we'll have to wait and see…but I wanted to point them out none-the-less.
As you can see, these are some pretty great cards!   We've got NT0536, NT0540, NT0541, NT0594, and the NT no number Carnation Menu.  The seller also has a number of pre-opening Walt Disney World cards that are still really cheap.  If you don't have those and are interested, $1.99 is a great price (again…these will likely go higher, but anything under $10 is, in my humble opinion, an OK deal for those cards).
On another subject, I plan on featuring a Chernabog card in my next
post.  Fantasia had such a huge influence on me as a kid…I thought it might be fun to tell that story!
Until next time…