A quick addendum to this post – If you are interested in getting your own copy of this set, I know someone who has several copies that are for sale.  Let me know and I will pass along contact info.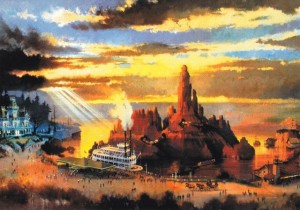 Several, if not all, of the Disney parks have had pre-opening day publicity in the form of a postcard or set of postcards.  Starting with Disneyland itself back in 1955 which published a set of 23 cards prior to the opening of the park, Walt Disney World, EPCOT, Tokyo Disneyland, and Euro Disney have all followed with pre-opening day post card sets of their own.  (I can't speak directly to cards from the other properties because I have not seen them…but I have to believe they exist).  Today,  I wanted to briefly touch on the Euro Disney pre-opening day postcard set.
The set consists of 12 cards and was sold at the preview center that was constructed in Marne-la-Vallée, France prior to the opening of the park on April 12, 1992.  The preview center opened in 1990 and was a popular place to visit prior to the park opening.  Check out this site to get a good flavor of what you would have seen if you visited the Euro Disney preview center.
The art work is, as you might expect, fantastic.  The "future past" of Tomorrowland, the whimsy of Frontierland, and the "Hello Dolly" look of Main Street are all really well done.  As I said…there are twelve cards in the set numbered 1 through 12 on the back.  Card number 1 has a bar code number of 00100 00096.  The numbers don't exactly progress incrementally from there, but nearly so.  I do not have the cards up in the database yet, but I will soon, so you can check them out there.
I have only been to Disneyland Paris once, and that was back in 1999.  I find it rather interesting that they changed the name to "Disneyland Paris" in 1995.  They claim that it was because the Europeans associate with the term "Euro" differently than Americans do (this according to a Michael Eisner quote on Wikipedia).  Perhaps, though, they have long term plans for another park in Europe?!?!
Until next time…
P.S.  If you know anyone headed to Shanghai (maybe you are going yourself), be sure to ask them to keep an eye out for pre-opening day cards of Disneyland Shanghai!