Occasionally, I like to take a look at recent eBay results to see if anything interesting has escaped my attention.  No matter what you collect, going onto eBay and looking at what people are buying and selling, as well as what they are asking and paying, is always educational and worthwhile.  A few items I found were noteworthy…so let's take a look!
First off is a jumbo Tomorrowland card (NT0469A
) shown above. Granted, this card was used, but for $5.99 and free shipping, somebody got a steal.  As I have said before, I personally like used cards.  There is a certain nostalgia to them, a slice of the contemporary culture that is unique to that person and that card.  In this particular case, Alex Jr. says "This really is a busy, fast moving place.  They really do drive 60 miles per hour all the time on the Freeways."  Priceless!
Moving on, I was rather surprised to see this PDL-2 (NT0498
) get $52.99.  I have had several of these and didn't pay anywhere near that much for them.  To be sure, the card is not that common.  This is just another example of how anything can happen at any time in this hobby.  Maybe these were new collectors who needed the card.  Or, perhaps these were veteran collectors who, for whatever reason, had not been able to find the card and were tired of waiting for another chance.
Another interesting result was realized for this Haunted Mansion folder
.  In general, folders are a great source for different images that were not made into individual post cards.  Along with this one, the Grand Canyon folder will often command a premium.  Both will usually get more than $20, but I was a little surprised to see this go for $42.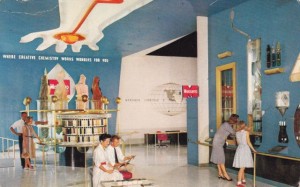 Finally…a random (and bizarre) result to finish out this post.  Anyone who has spent more than a few weeks collecting in this hobby should know that the Monsanto cards are as common as salt.  Apparently not everyone is aware of this fact, though, based on this result for NT1101
.  I saw this and could not help but pity the buyer.  Sure, it's only $16.99…but you can get a decent lunch for that!  Oh well…it is what it is!
I hope you have enjoyed this little tour.  This really is a great hobby…and a young one to boot.  I look forward to the day when more people collect.  But for now, I very much enjoy our small community!
Until next time…